David Sterling Slatton, MD
Plastic Surgeon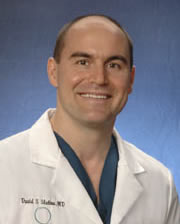 Training & Experience
Certification/Professional Memberships:

Board Certification:
American Board of Plastic Surgery
American Board of Surgery

Society Memberships:
American Society for Aesthetic Plastic Surgery
American Society of Plastic Surgeons

Cosmetic Surgery Fellowship: Drs. Baker and Stuzin, Miami Florida
Plastic Surgery Residency:
University of Kansas, Kansas City, KS 1996- 1998

General Surgery Residency:
University of Illinois Hospitals, Chicago, IL 1991-1996

Medical School:
Medical College of Virginia, Richmond, Virginia M.D. 1991

Undergraduate:
University of Virginia, 1986, B.A. with Distinction, Phi Beta Kappa
Major: Studio Art

Post graduate art school:
Skowhegan School of Painting and Sculpture, Skowhegan, Maine
.
Awards:
American Medical Association Physician Recognition Award 1998, 2001, 2005

Publications:
Cover art, Aesthetic Surgery Journal, July/August issue 2006
Cover art, American Society for Aesthetic Plastic Surgery Membership Roster 2006-2007
"Congenital cysts of the thrid and fourth pharyngeal pouches or pyriform sinus cysts", Journal of Pediatric Surgery, August 2000 Volume 35, Issue 8, pgs 1252-1255.
About David Sterling Slatton, MD
David Sterling Slatton, MD is an experienced board certified plastic surgeon in Indianapolis, Indiana who specializes in plastic surgery of the body, breast and face. Dr. Slatton performs state of the art procedures for breast augmentation, breast lifts, revision breast surgery and breast reduction. He is also a skilled and versatile body contouring surgeon and performs Liposuction, high lateral tension abdominoplasty (a state of the art tummy tuck and liposuction procedure), mini-abdominoplasty, lower body lift, arm lift, outer and inner thigh lift, and buttocks lift and augmentation. Dr. Slatton also peforms facial rejuvenation procedures including eyelid surgery (blepharoplasty), brow, face and neck lift, fat transfer, facial liposuction, cheek and chin implant placement, laser skin resurfacing, rhinoplasty, and cosmetic ear surgery. Dermal Fillers and Botox & Dysport injections are also performed by Dr. Slatton. View before and after photographs of Dr. Slatton's patients.
Always an outstanding student, Dr. Slatton had a variety of interests and many academic achievements that merged into his development as a board certified plastic surgeon. Dr. Slatton's pre medical education, medical education and surgical training through the completion of his plastic surgery training spanned over 15 years. This included four years of college, four years of medical school, completion of a five year General Surgery Residency, a two year Plastic Surgery Residency, and a Cosmetic Surgery Fellowship with world renowned plastic surgeons. Dr. Slatton has earned certification from two American Board of Medical Specialties Boards; the American Board of Surgery and the American Board of Plastic Surgery.
Dr. Slatton is a member of the American Society for Aesthetic Plastic Surgery(ASAPS) and the American Society of Plastic Surgeons(ASPS).
Dr. Slatton has been in plastic surgery practice for 16 years.
Dr. Slatton's early interest in art led him to major in Studio Art as a premedical student, and he spent time as a professional artist, won awards, and sold his paintings. View Dr. Slatton's paintings and drawings. It is the blending of science and art that compelled Dr. Slatton to pursue the specialty of plastic surgery. Dr. Slatton uses the knowledge and aesthetic sensibilities he acquired as an artist and he applies them along with his scientific and surgical education to his plastic surgical procedures.
Outside of his practice to which he is thoroughly committed, Dr. Slatton enjoys exercise, travel and relaxing by playing his electric guitar.
On this website, you will see Dr. Slatton's original artwork which consists of oil paintings, and drawings in various media.
Practice Philosophy:
Dr. Slatton is committed to providing his patients with excellent care throughout the process of their plastic surgical procedure. When you come in for a consultation, Dr. Slatton will personally take the time that you need to discuss your procedure of interest and goals for improving your appearance.