Laser Resurfacing Indianapolis, Indiana
CO2 Laser Skin Resurfacing in Indianapolis, IN for fine lines and wrinkles of the face, and sun damaged skin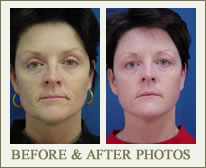 More severe wrinkles and sun damage of the face are treated with the CO2 Laser. Fine lines around the eyes, vertical lines around the mouth, acne scars, and facial scars are frequently indications for Laser Resurfacing. Areas of uneven pigmentation and "age spots" are also treated with the CO2 laser. Full face resurfacing alone, or Regional resurfacing for vertical lines around the lips and lower eyelid skin wrinkling can be performed. Dermabrasion is an alternative modality for "smoker's lines".
The best results from CO2 laser resurfacing are typically seen in individuals with fair, non oily skin. Patients with darker skin tones that are olive, brown, or black may wish to pursue other resurfacing options. Regional resurfacing is frequently done in conjunction with other plastic surgical procedures on the face such as blepharoplasty and face lift.
Patients undergoing CO2 Laser Skin Resurfacing should be using a skin care regimen of 4% Hydroquinone and Retin-A for at least two weeks prior to the procedure. CO2 Laser Resurfacing is performed in an outpatient setting and requires IV sedation and local anesthesia or general anesthesia. Immediate post operative care consists of applying emollients to the face for one week until the skin seals, and then moisturizers starting the second week. Water based makeup can be worn starting the second week post operatively. A pinkish, sunburned quality of the skin may last from several weeks to a few months after the procedure. Makeup will conceal this until normal skin tone returns.