Breast Reduction Indianapolis, IN
Reduction Mammaplasty Surgery Indianapolis, Indiana
Breast Reduction surgery, also known as Reduction Mammaplasty is is a plastic surgical procedure performed to help treat symptomatic breast hypertrophy (large breast size). It is also has cosmetic value in that the appearance of the breast is generally improved by lifting of the nipple areola, change in breast shape, and reduction in breast size.
Are you a Candidate for Breast Reduction?
Symptoms due to heavy and ptotic (sagging) breasts include upper back pain, neck pain, bra strap grooving, and rashes in the breast folds. If you have these symptoms, a breast reduction may be a appropriate for you. In large breasts, the nipple falls below the level that the fold of the breast makes with the chest wall which is a condition referred to as breast ptosis. Breast reduction will address the sagging nipple position and elevate it to obtain a better appearance. Contributing factors to breast hypertrophy include weight gain, and congenital or genetic factors.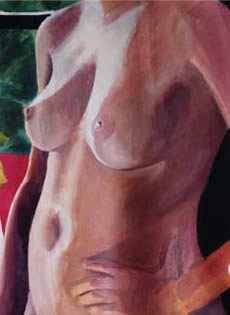 Painting by Dr. Slatton
Benefits of Breast Reduction Surgery
Significant improvement in symptoms of upper back pain, bra strap grooving, and rashes in the breast folds between the lower breast skin and upper abdomen occurs after breast reduction surgery. The nipple areola region is elevated, and centered in relation to the breast volume. Often, the shape of the breast is improved; and this is accomplished by removing lower breast tissue which falls beneath the fold the breast makes with the upper abdomen.
Schedule a consultation with Dr. David Slatton. Dr. Slatton will spend the time necessary for you to make an informed decision about breast reduction surgery.
Choosing a Plastic Surgeon for Breast Reduction surgery
It is extremely important that you have a plastic surgeon who is certified by the American Board of Plastic Surgery perform your reduction mammaplasty procedure. Accept no substitute for American Board of Plastic Surgery certification. There are many pretend boards that do not require ACGME residency training in plastic surgery in order for the doctor to claim board certification. Verify your surgeon is truly a board certified plastic surgeon by going to www.abplsurg.org. Dr. Slatton has over a decade of experience performing Breast reduction surgery.
Breast Reduction Surgical Techniques
Dr. Slatton uses the Vertical Mammoplasty technique in a majority of breast reductions. This is a short scar technique, which was pioneered by a number of plastic surgeons, most notably Claude Lassus and Madeline LeJour, results in a "lollipop" scar. The Vertical mammaplasty helps avoid or minimize the horizontal incision in the breast fold which is known as the "anchor" pattern of scarring with breast reduction surgery. Although the horizontal incisions may occasionally be required with the Vertical Mammoplasty technique, the scars are much shorter and don't run into the pre sternal (chest) skin or axillary region (side of the chest). Breast reductions performed with the Vertical Mammaplasty technique tend to have a fuller, rounder appearance than breast reductions performed with the inferior pedicle technique that results in the anchor scar pattern.
The Free Nipple technique is used for extremely heavy breasts when the breast skin is severely stretched and the nipple position falls to the level of the belly button.
View our Before and After Gallery to see results obtained by Dr. Slatton for his patients who have had breast reduction surgery by both Vertical mammaplasty and free nipple techniques.
Scarless Breast Reduction- Many women desire to avoid the scars associated with breast reduction. For a select group of patients, Liposuction of the Breast is a technique of Breast reduction that is very effective in reducing breast size when the breast volume is primarily comprised of fat. Good breast skin tone is a key to success with the Scarless Breast Reduction technique. Recovery from liposuction of the breast generally faster than the Vertical mammaplasty or Free nipple graft techniques. Although the breast skin retracts to some degree, usually ptosis of nipple areolar complex persists.
Breast reduction can be combined with other plastic surgery procedures such as Liposuction of the axillary region and tail of the breast, liposuction of the abdomen, and occasionally tummy tuck procedures.
Before Breast Reduction Surgery
It is important that you stop Aspirin and aspirin containing medications at least 4 weeks prior to surgery. Stop smoking 4 weeks before surgery. Make necessary preparations for child care and time off work so you can have a stress free recovery. Be prepared to take at least a few days off work after the surgery until you no longer require prescription pain medication during the daytime hours.
You will need to wash with antimicrobial soap for the 3 days preceding your surgery.
The Day of Surgery
Breast Reductions are usually performed as an outpatient procedure. A friend or family member must accompany you and drive you to and from the surgery center or hospital on the day of surgery. Some discomfort after surgery is inevitable, but this can be significantly reduced with prescription pain medication, which is taken by mouth at regular intervals for the first several days after surgery.
OR facilities and anesthesia
Breast Reduction surgery is performed as an outpatient procedure in an AAAHC accredited outpatient surgery center or a hospital. You will be administered anesthesia by a board certified MD anesthesiologist. Breast reduction surgeries are performed under general anesthesia…this will ensure your safety and comfort while allowing the doctor to concentrate on providing you with the best possible surgical outcome. Liposuction of the breast can be performed under IV sedation with local anesthesia (twilight anesthesia).
After Breast Reduction Surgery
Some discomfort after surgery is inevitable, but this can be significantly reduced with prescription pain medication, which is taken by mouth at regular intervals for the first several days after surgery. Many patients can return to work within a week of the surgery.
Recovery from Breast Reduction Surgery
However, physical activity restrictions that apply for home and work will be necessary in the immediate postoperative period. Activities at home or work related which require lifting or carrying objects greater than 5lbs, are prohibited for the first three weeks after surgery. Patients can begin limited exercise three weeks after breast reduction surgery and most people can return to full activity, with a few exceptions, 6 weeks after surgery.
Breast Reduction Results
The final postoperative appearance of your breast shape may take several months to occur. Wrinkling of the breast skin in the lower half of the breast is present initially after Vertical Mammoplasty. However this usually smoothens after time as the breast tissue settles and the skin contracts. This process usually takes 3 to 6 months. Although the future shape of the breast is not immediately apparent after the Vertical Mammoplasty breast reduction technique is used, the long-term benefits are a better breast shape and prevention or significant reduction of the horizontal breast crease scar.
Taping and applying adhesive silicone gel strips to the incision scars helps improve the early postoperative and final scar appearance. Although many breast scars have an acceptable and often excellent appearance in the first months following the procedure, it may take up to a year for the scars around the areola, and on the lower breast to reach their final appearance. For these reasons, it is important that you attend your post op visits to optimize your final result.
Breast Reduction Costs and Insurance Coverage
The surgery to alleviate symptoms of breast hypertrophy can be covered by some health insurance plans. A certain amount of breast tissue removed is required for most health plans to cover the costs of the surgery. Smaller reductions are usually not covered by health insurance plans.
The cost of breast reduction not covered by insurance includes the OR, anesthesia, and surgeons fees.
Financing information is available on our financing page
Breast Reduction Complications from breast reduction surgery are infrequent. These will be discussed with you at the time of your consultation.