Breast Lift Gainesville, FL
Mastopexy (Breast Lift Surgery) with or without Breast Implants Gainesville, Florida
Breast Lift surgery or Mastopexy is a plastic surgical procedure which lifts the volume of the breast up onto the chest and centers the nipple areolar complex in the breast volume.
Are you a Candidate for Breast Lift?
When a patient's nipple falls at or below the level that the fold of the breast makes with the chest wall (a condition referred to as breast ptosis), a breast lift is required in order to obtain a better appearance. Contributing factors to breast ptosis include pregnancy, weight gain, and loss, and congenital or genetic factors.
Benefits of Breast Lift Surgery
A Breast lift is performed to elevate, and often center the position of the nipple and areola in relation to the breast volume. A Breast Lift may be performed with or without Breast Implant placement, and the use of an implant depends on a patient's desires for fuller or larger breasts. Often, the shape of the breast is improved; and this is accomplished by removing lower breast tissue which falls beneath the fold the breast makes with the upper abdomen.
Schedule a consultation with Dr. David Slatton. Dr. Slatton will spend the time necessary for you to make an informed decision about breast lift surgery.
Choosing a Plastic Surgeon for Breast Lift surgery
It is extremely important that you have a plastic surgeon who is certified by the American Board of Plastic Surgery perform your mastopexy procedure. Verify your surgeon by going to http://www.abplsurg.org/. Dr. Slatton has over a decade of experience performing Breast lift surgery.
Breast Lift Surgical Techniques
Board Certified Plastic Surgeon Dr. David Slatton in Gainesville, Florida primarily uses short scar techniques for breast lift surgery for his patients. The incisions may be around the areola only (Periareolar Mastopexy) for smaller breast lifts with minimal ptosis where the breast does not require significant reshaping. In larger breasts with greater degrees of ptosis, the incisions are made around the areola and from the 6 o'clock position of the areola to the inframammary fold (Vertical Mastopexy) in order to elevate the nipple areola and reshape the breast. There are few indications for the traditional "anchor" incision in most patients seeking mastopexy procedures. However, patients with extreme ptosis may require a horizontal incision in the breast fold to eliminate excess skin.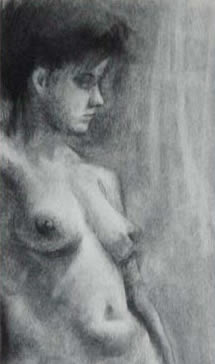 Drawing by Dr. Slatton
Breast lift with Saline or Silicone Gel Breast Implants
A choice of saline or silicone gel breast implants is available to most patients who desire to increase their breast size in conjunction with a breast lift. Both implants are FDA approved and have unique advantages and disadvantages. When combined with breast lift surgery the procedure is called a Mastopexy Augmentation, Silicone gel breast implants tend to fall in the breast pocket faster post operatively than saline breast implants with breast lift-augmentation procedures, and this may be considered an advantage for some patients.
Breast lift surgery can be combined with other plastic surgery procedures such as eyelid surgery, arm lifts, liposuction and tummy tuck surgery.
Before Breast Lift Surgery
It is important that you stop Aspirin and aspirin containing medications at least 4 weeks prior to surgery. Stop smoking 4 weeks before surgery. Make necessary preparations for child care and time off work so you can have a stress free recovery. Be prepared to take at least a few days off work after the surgery until you no longer require prescription pain medication during the daytime hours.
You will need to wash with antimicrobial soap for the 3 days preceding your surgery.
The Day of Surgery
A friend or family member must accompany you to and from the surgery center or hospital on the day of surgery as they will need to drive you home from the surgery center or hospital.
Breast Lifts with or without implants are performed as an outpatient procedure in a AAAASF accredited outpatient facility under sedation anesthesia.
After Breast Lift Surgery
Some discomfort after surgery is inevitable, but this can be significantly reduced with prescription pain medication, which is taken by mouth at regular intervals for the first several days after surgery. Many patients can return to work within a week of the surgery.
Recovery from Breast Lift Surgery
However, physical activity restrictions that apply for home and work will be necessary in the immediate postoperative period. Activities at home or work related which require lifting or carrying objects greater than 5lbs, are prohibited for the first three weeks after surgery. Patients can begin limited exercise three weeks after breast lift surgery and most people can return to full activity, with a few exceptions, 6 weeks after surgery.
Breast Lift Results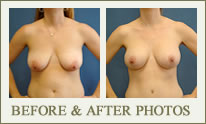 The final postoperative appearance of your breast shape may take 4 months or longer to occur. Taping and applying adhesive silicone gel strips to the incision scars helps improve the early postoperative and final scar appearance. Although many breast lift scars have an acceptable and often excellent appearance in the first months following the procedure, it may take up to a year for the scars around the areola, and on the lower breast (with the vertical Mammoplasty technique) to reach their final appearance. If a breast lift is performed with breast implant surgery, the implants will take time to settle into the implant pocket with the assistance of directional message and gravity. For this reason it is important that you attend your post op visits to optimize your final result.
Breast Lift Costs and Financing- The cost of breast lift without implants includes the OR, and surgeons fees. Contact our office at 352 331 7987 for the estimated costs of these surgeries.
Financing information is available on our financing page
Breast Lift Complications from breast lift surgery are infrequent. These will be discussed with you at the time of your consultation.